About my breeding & planned litters
I only breed 1 ( or very rarely 2 litters per year ). It takes a lot of time, as I have my pups indoors and try to spend as much time as possibly with them :) I take them in & out several times a'day. They are free to "run around" in the kitchen from 21 days of age and also visit other rooms in the house, for new experiences. They have a lot of things to "play" with, tugs for tugwar, balls & noicy metal-things. They have big yards outside, neighbours to horses and sheep. Well fenced...!

I visit friends with them when they are 7 weeks, so they can experience to go by car and also see another house.
I think it is very important to let them be socialised and used to cooperation with people, so we love when our friends come and visit us and play with mum & pups!

I want to sell them to people that do something with them, not only keep them as pets. Kelpies need to work !
I think that good bitches are the most important in the breeding. Well, good males also :)
In Sweden we can only breed from hipscored and HD-free dogs, grade A or B. That might be maximum 4:4 - 6:6 in Australia., depending on where the points are placed.
Of kelpies born 2000-2005 in Sweden there are 433 scored with good hips, grade A & B and 39 with HD, mostly C.
All HD & ED-results are official, at the Swedish kennelclub's database. There are also all results from competitions & shows for all registred dogs.
You can see it here: http://kennet.skk.se/hunddata It is in Swedish, but you can try your way ahead :)

We also have to do a mentaltest before breeding; MH. That's not approved or not, just known mental status, but very good to look at for the sake of breeding mentally stabil, open dogs with workingability. "Good dogs" !!!
For the title KORAD, the dog has to be approved in a big mentaltest + HD OK + "good enough" looking and testicles OK.

I think that it is important to know as much as possible about the siblings to the parents, as they also affect on the litters, both about HD, mentality & conformation !!!!!!
The best breeding is breeding good dogs from good litters !
My goal with breeding are healthy dogs with a lot of "power" for work, as tracking, searching & obedience. I have sheep and try to do a bit herding also, the dogs love it, but in that I'm a beginner in herding so I should take lessons... :)
Training tracking, seaching & obedience is easy, but that's because I'm used to it of course :)

I prefer to use good mentaltested dogs that also has proved that they can work, more or less. All owners does not want to go to competitions and I don´t mind, as long as the dogs will get their needs of activity in using brain and noose and are loved members of the family. But, if I will breed from a dog I want to know the workingability and it is a difference between training "at home" and compete a whole day in another place
And of course, I am happy for results from competitions for "my pups"..!
I want to be keeping our "old" lines with some "new blood" now and then, always keeping the inbreedingcoefficients under 2.5% and mostly no individual more than 0.8%, depending on who and the results from that individuals progeny.
I think about it more and more, as in litters with high inbreeding the risk is much higher for illness...
The inbreedingcoefficients are counted out of 5 generations. If I count from 4 there will be lower and in some of the litters 0%.

These are my thoughts about matings that I'm interested in and not all of the owners of the males are spoken to. Plans can change as time goes...

_____________________


Spring 2015

KORAD SEUCH Vickulas Piraya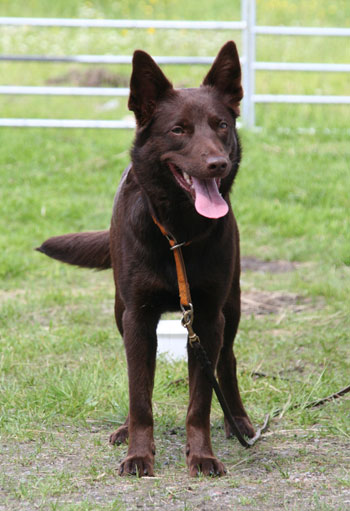 HD A, ED 0-0, patella OK. Approved in elite tracking, 1:st price in obedience class 2, approved herding instinct test.

Piraya is the mother of W-litter. All scored and OK - 7 A's and 1 B - a "good" B :) All ED 0-0.
6 of them have MH done in a nice way.
All 4 boys have their testicles down early.
&

AUST CH Lorroy On the Run - "Nitro"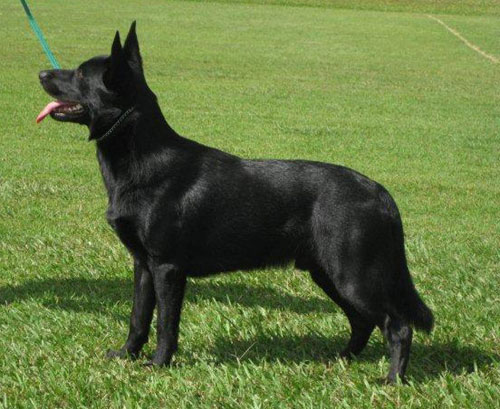 See more about Nitro HERE

Also this time in cooperation with Charlotte & James.
THANKS!!
____________

2016

Hopefully another litter from
KORAD LPI Vickulas Reka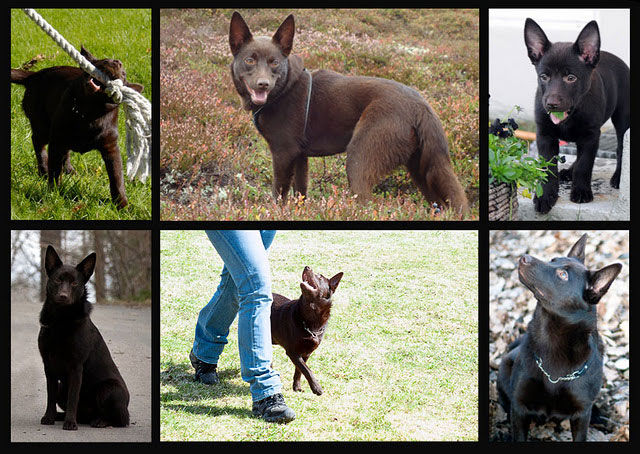 HD A, ED 0-0
Up for level 2 tracking, obedienceclass 2, agility class 2 and shown with Excellent.
Approved herding instinct test.
Reka is the mother of V-litter. All scored, 2 A's and 2 B's, ED 0-0. Nice MH-tests and good looking guys :)
Both boys had their testicles down early.

Also the mother of the X-litter. 5 nice boys, will be scored and MH-tested in December - hopefully.
Unfortunately Xter and Xeiko are crypt. So looking a bit extra for that for this mating. Not the worst fault in a dog, but needs to be looked after anyway.
Male?
Promotion KTM Superduke?
AUST GR CH Sandsprite Land Down Under?
Probably we will buy semen from him.

Also looking at KORAD Bumerangs Barking Bimo or KORAD Bumerangs Bolt From The Blue.
Vickulas Wix & Willy Wonka are also interesting, but their father is VIP and he is also the father of Rekas V-litter.
Perhaps good to spread the genes a bit more!?

Time will tell!
___________


Maybe
KORAD Vickulas Tinka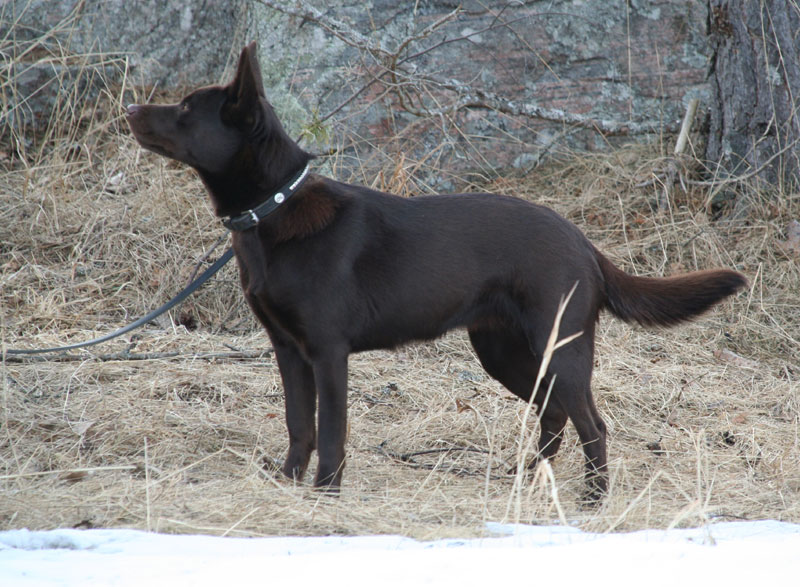 HD grade A, ED 0-0, patella OK. MH done.
Up for level 3 tracking and elite obedience. Excellent from show.

Male not decided yet, but thinking of
KORAD SELCH Busligans Gino.

_____________


2017
Perhaps I can borrow
Vickulas Wissla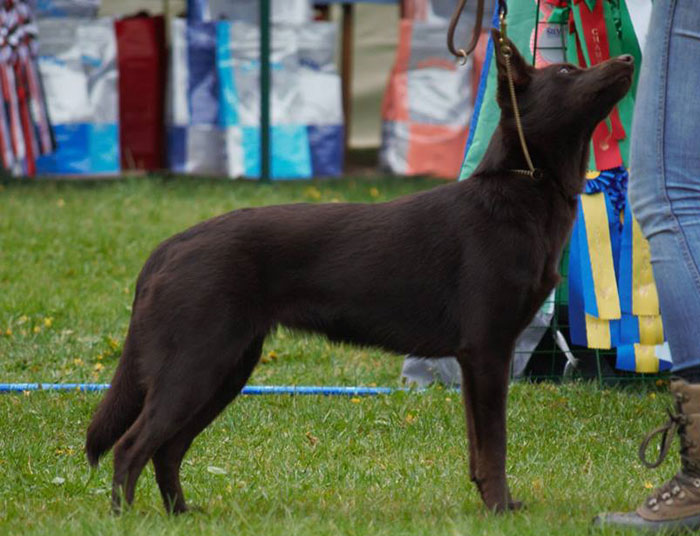 THANKS, Emma!
HD A, ED 0-0, patella OK
So far nice MH, 2:nd price in obedience class 1, VG from show.
We will wait and see how she and her siblings mature and the result of their big mentaltest.

Males - are funny to look for ;-)

The thought is
KORAD LPI LPII LPIII Baccus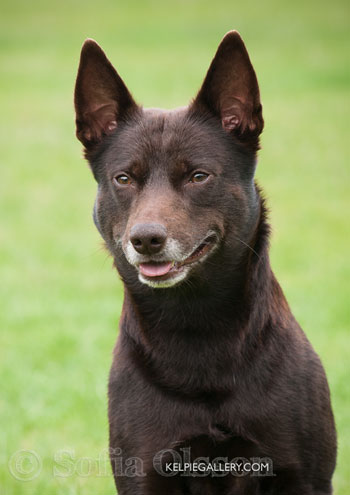 HD A, ED 0-0, eyes clear ( 2013 )
Competing in elite obedience and elite searching - one certificate,
shown with excellent. Has a very nice big mentaltest.

__________________________

A-Yuluma?


Still VERY young ;-)